Local MP and former Prime Minister Liz Truss officially opened the new Furncare National Distribution Centre last week.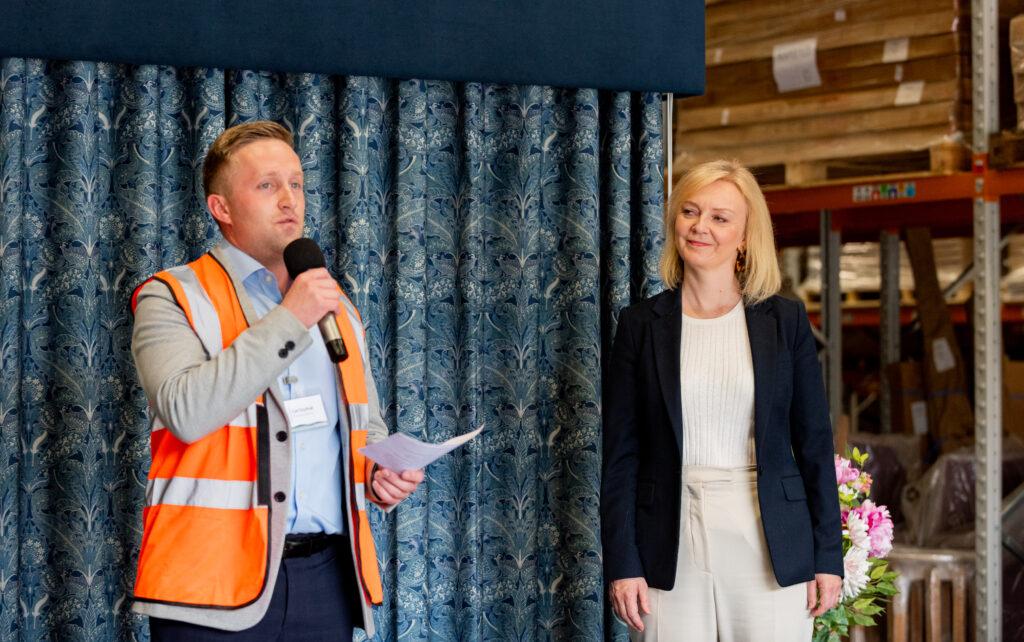 The Grand Unveiling
Having been welcomed by MD Carl Southall, Ms. Truss was invited to unveil a commemorative plaque which was concealed behind a pair of Furncare curtains. Drawing the Beatrice Indigo curtains, Ms. Truss was somewhat surprised to reveal a second pair of Furncare curtains. To everyone's amusement, she then drew the second pair of Kibale Papaya curtains to finally reveal the plaque.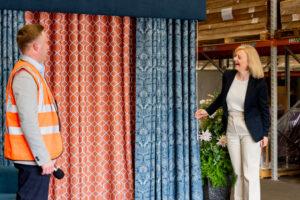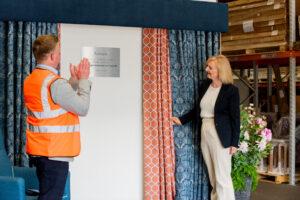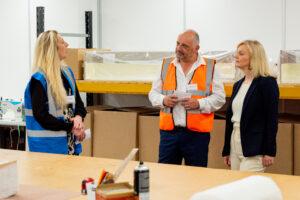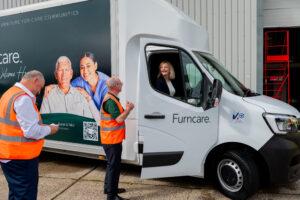 Guided Tour
Ms. Truss was then taken on a tour of the new 30,0002ft facility, trying out a Collette High Back Chair and meeting many of the Furncare team along the way. Following the tour, Ms. Truss was invited to take a seat once again – this time the driving seat of a Furncare delivery vehicle.
"It's incredibly important that older people are able to live in comfortable surroundings with the right care and facilities appropriate to their needs. It's great to see a thriving business in South West Norfolk playing its part in ensuring that this is the case."
The Rt. Hon. Liz Truss MP
Rapid Delivery
Furncare, a leading provider of specialist furniture solutions to the care sector, consolidated their four warehouses and relocated to the new complex which includes warehousing, upholstery workshops and offices. The new facility is on the A11, linking the site to the UK motorway network and helping to ensure rapid delivery of stock furniture items in as little as five working days.
Huge Boost
Carl Southall, Furncare MD, is delighted to see the new facility open. "To have Liz Truss, our local MP, support our investment by opening the centre for us is a huge boost for the whole Furncare team. We're committed to delivering unbeatable quality, value and service for our clients, so it's important to have the very best production and distribution facilities."
_______________________________________________
Book your visit today: 📞 Call: 01603 664900 📧 Email: sales@furncare.co.uk
Don't miss an opportunity to witness the future of care furniture at our National Distribution Centre and explore our nearby Furncare Showroom.