Care Home Lounge Layout
Purchasing new care home lounge furniture is about more than just the furniture itself. The activities that take place within the room, the amount of residents generally in the space at any one time and the type of atmosphere you want to create all need to be considered. Most importantly, these factors all feed into the layout you choose for your care home lounge furniture. A study has shown that care home residents, on average, spend 19% of their time doing nothing, and 50% of their time with no social interaction, therefore creating a space that encourages participation and stimulation is incredibly important. Often chairs are placed around the outside of the room in care settings, however considering other layout options can promote social interaction and engagement between residents and also care staff and with activities. In this blog we give some simple ideas and different lounge layouts that you can consider when next purchasing care home lounge chairs or simply looking at a reorganisation of your current nursing home living room furniture.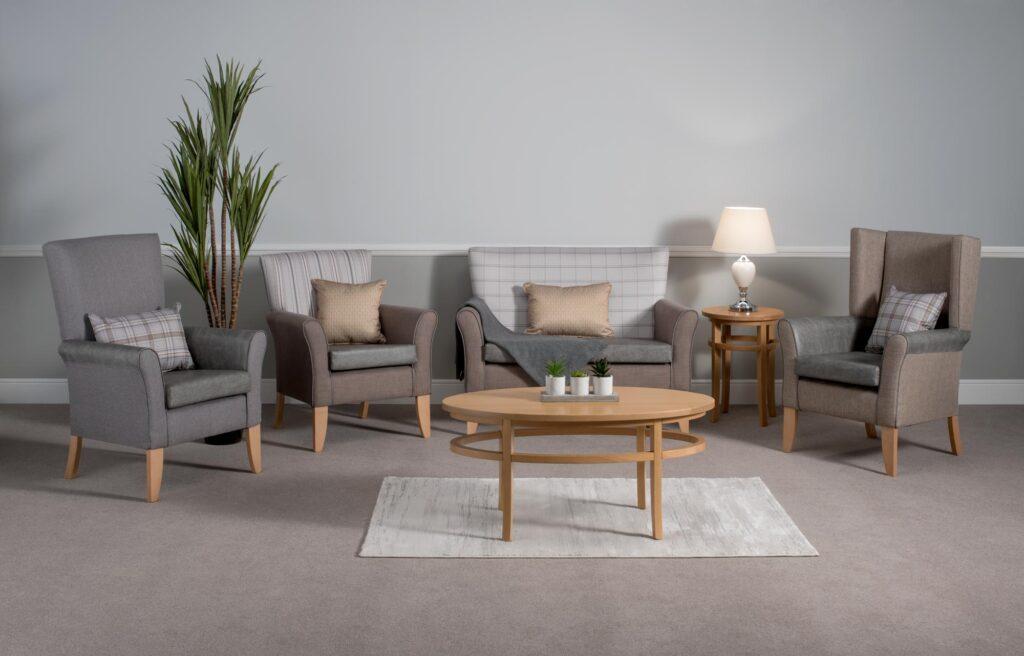 Groups or Clustered Care Home Lounge Furniture Layout
Clusters of different types of chairs within a space is a great way to provide different zones within the same room as well as allowing residents to have face to face conversations and interactions. By placing some chairs opposite others, residents can choose if they would rather watch the TV, read by a window or have a chat with a fellow resident, something that isn't easily possible with all of the chairs next to each other around the outside of a room. Consider the following when looking at a clustered layout:
Different seat and back height styles of chairs should be mixed and matched around the room so that residents have a variety of options in different spaces.
Particularly if the lounge is the main communal space for the home, it is often the place where residents come together for a variety of tasks (activities, watching TV, reading a book, daydreaming out the window). Therefore, creating zones which consider the best layout for each of these activities is important. For example, how many residents on average like to watch the soaps in the evening? Make sure to provide enough chairs in each area or alternatively, keep the space flexible with the ability to move chairs around when needed.
Is a wide-open space agitating the residents or making them uncomfortable? In some cases, particularly residents living with dementia, a large open space can cause feelings of discomfort and worry. Therefore, if you have a large space, creating zones or areas within that space through the strategic placement of lounge chairs and tables for care homes can alleviate that stress by breaking up the space.
Creating a layout similar to that pictured in the scheme we designed below is worth considering if you're looking for a change and have a multi-functional space.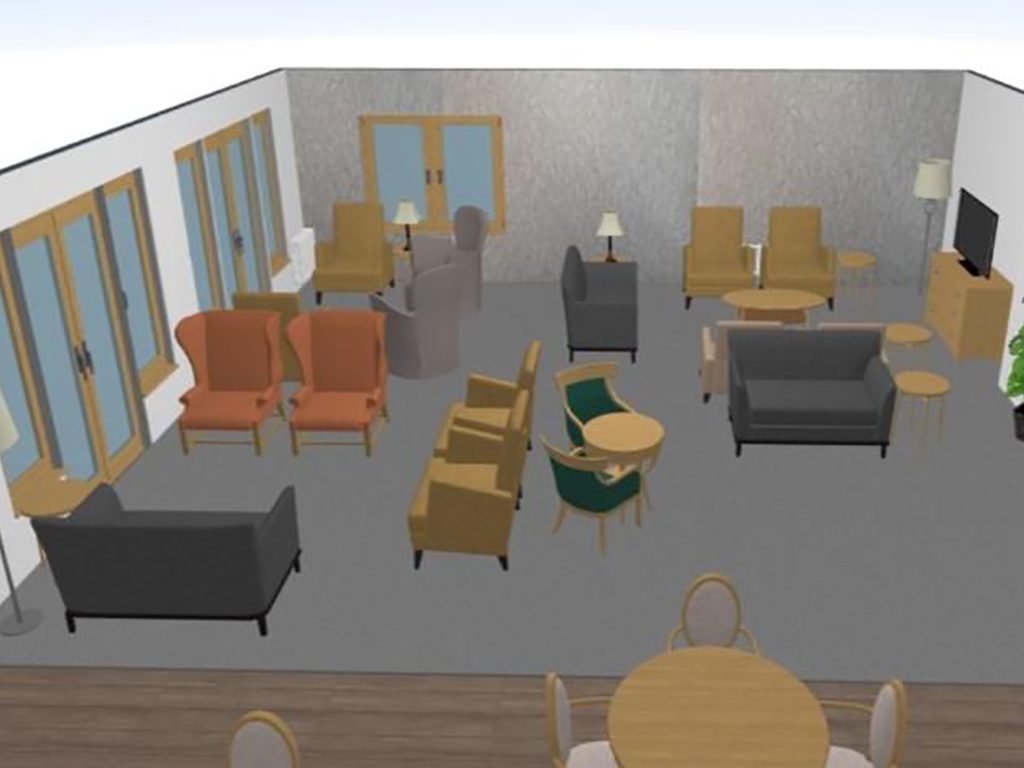 Types of Care Home Lounge Chair
Providing different types of chair within a setting is important to cater for different residents needs, as we explain in a previous blog post. When considering the positioning of these chairs in relation to the room have a think about the below:
Chairs with wings should be positioned at a slight angle towards each other. The wings on highback chairs are great for supporting residents, but they often provide an obstruction to conversation when placed directly next to each other. By angling the chairs slightly towards each other this will allow residents to have a conversation.
Different types of chair are more suitable for different functions and tasks. For instance, in an activities area you may want to provide medium back chairs, whereas for a TV area higher backed chairs with and without wings would be suitable.
Consider the introduction of 2 seaters. When we look at our own homes, we often have 2 or 3 seater sofas which are great for a family space. Residents and carers are family within a care home therefore providing 2 seater options will give even more of a family, collaborative impression, rather than chairs which are for sole use.
Access
Allowing adequate access for those using wheelchairs and Zimmer frames is key to making sure that everyone can be involved in communal spaces as much as they would like to be. As a general rule of thumb, allow 1 – 1.2m gaps between chairs and along gangways for wheelchairs to be able to manoeuvre and access safely.
We hope that this blog has given you some inspiration to consider when looking at your care home lounge layout. There can often seem to be lots of things to consider when working out what layout will work best for residents and carers, but promoting interaction, conversation and stimulation amongst residents should always be one of the key considerations. Our interior design team have a wealth of experience in compiling interiors schemes, mood boards and room layouts as shown in this blog that cater to your specific requirements, if you'd like to discuss your next project and get some expert advice you can contact us on 01603 664900 or sales@furncare.co.uk.